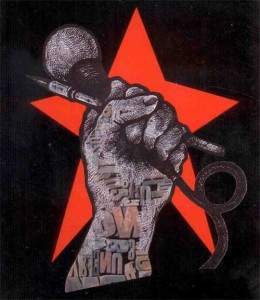 The Revolutionary Poets Brigade is a group of poets in the San Francisco Bay Area dedicated to bringing positive change in the world through the power of poetry. The brigade is poised to gather for community actions at any venue . . . including the streets! We can also be booked for readings at colleges, libraries, community centers, and schools.
MISSION STATEMENT
NOW
As poets we are uniquely positioned to seize the possibilities of the time, bringing language to life and participating in the movement that is gathering as we speak…
IT'S TIME
Poetry has always been and continues to be not only the way the poet listens to his or her innermost being, but a way the spirit of the times, in its most forward-looking incarnation, is expressed and heard. And the times we're in, of crisis and the cry for transformation, particularly needs the news, as poet W.C. Williams said, "without which we die."
We say what we see: and that is the system which cannot rest until it extracts every drop from a desperate earth: capitalism. We say what we see: and that is the oppression of our class, driven to the streets and alleys of our cities, driven to the muddy fields, all because there is no profit in maintaining life and health. We are the harbingers of revolution and the awareness that underlies and drives it.
FOR THE REVOLUTIONARY POETS
In our common struggle toward freedom, each individual instinctively reaches for the best tool at hand. As artists, we have the most powerful tool of all, the ability to inspire, transform, and liberate, just in the nick of time as it happens, as the sick old ways rust, choke, sputter, and fade. Poets, those at the compressed razor sharp edge of social thought, and all fellow artists of visionary courage, stay mindful of this historic opportunity, lead with strong revolutionary voice for all humankind to genuinely live and thrive in common spirit!
BRIGADE
Therefore, we want to create a Revolutionary Poets Brigade, to respond to the demands of the moment – provoking the future out of the confused minds of today, inspiring with the passion of the living word, in preparation for the development on a wider and larger scale of the uprising, the action that will overthrow this system of greed and exploitation.
As a network, we can be present and participate in the popular resistance that is going on around us by holding poetry events, by reading and speaking at demonstrations, and by publishing broadsides and pamphlets. Join us.
"Camerados . . . will you come travel with us? Shall we stick by each other as long as we live?"
– Walt Whitman
Composed by Bobby Coleman, Jack Hirschman, Sarah Menefee, Cathleen Williams